The Zimbabwe Fish Producers Association (ZFPA)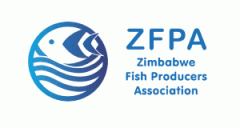 Old Show Office, Exhibition Park, Samora Machel Avenue, Belvedere
Zimbabwe is a landlocked country with a surface area of 390 580 sq km, of which 3 910 sq km is under water.  The major perennial rivers are the Zambezi, Save, Limpopo, Tokwe, Mazvikadei, Pungwe, Mukuvisi and Mazoe. The commercial fishery sector is concentrated in the major lakes of Chivero, Darwendale and Kariba.  Major focus on fisheries resources has been capture fisheries and the decline in fish catches over the past decade demonstrates the need to strengthen aquaculture.
Aquaculture provides an alternative use for maximum and sustainable utilisation of water resources and also provides much needed protein to feed the nation.
In Zimbabwe, fish consumption is currently estimated at 0.5kg per person per annum. This is very low when compared to Zambia where fish consumption is 5kg per capita.
Fish farming has the potential to contribute to the national gross domestic product in a significant way and could become a major industry if national effort is mobilised and policy development is fully crafted to direct and stimulate growth of the sector.
The Zimbabwe Fish Producers Association came into being to work on developing principles that define the development of the sector, such as:
Expansion of the economic impact of aquaculture will require a regulatory framework that provides an enabling environment for successful and sustainable activity. A balance between serving biodiversity and business is required;
Ensuring that there is clear coordination between legislation relating to aquaculture and legislation proposed by other line sectors that impacts on aquaculture activities e.g. Environment Management Act and Parks and Wildlife Act etc;
Developing aquaculture in areas with the highest potential in terms of physical conditions and market outlets.
Research into improved technology is essential to the expansion and development of the sector hence commitment and investment across the full private – public spectrum;
Providing good quality information to farmers;
Securing availability of the diverse inputs required for aquaculture and special efforts will be made to promote this;
Promoting the export of fish and establish and maintain new markets; and
Raising national standards to enable local producers to access external markets.